If your like me I always think I have to save something for a better layout, card or project. Then I end up with things from years ago and far to much STUFF.
So use it up and a good way I found to use up a lot of paper and embellishments is to make a banner , plus with a banner you do get to see those favorite things all season and  for ones to come after that.
I made a Halloween one and it is  really fun. I used the Cricut cartridge Pretty Pennants and they also have a banner on Straight from the Nest.  For the Rosettes there are a lot of choices, Cricut – Tablescapes, Tim Holtz Paper Rosettes .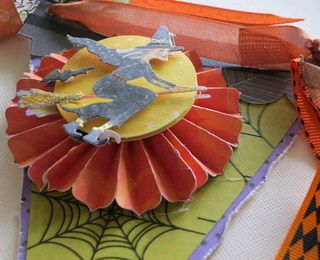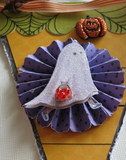 The best tip I can give you on holding the Rosettes together is to use a glue gun on them in the middle and hold for awhile to get them to stay together.  Your glue area will be covered up by whatever you use to top the rosette with. Now I didn't use a rosette on everyone of them you can just use an embellishment .